GRANTS > Grant Overview > Logos & Compliance
Logos
The NAC is a state agency which receives funding from the Nebraska Legislature and the National Endowment for the Arts, a federal agency.  The Nebraska Cultural Endowment is a public/private partnership that designates funds to the NAC for distribution.  Therefore, it is important that your audience and elected officials know public funding helps bring them the project, exhibit or performance that they are enjoying so much.  When you accept Nebraska Arts Council grant funds, you agree to acknowledge the NAC and our funding partner, the Nebraska Cultural Endowment (NCE), in all advertising, news releases, printed programs and any other promotional or publicity materials. 
Acknowledging NAC and NCE support emphasizes the importance of partnerships.  Nonprofit arts programs cannot exist unless everyone works together to make them happen.
The logo of the Nebraska Arts Council and the Nebraska Cultural Endowment must appear in any published materials, broadcast materials or PSAs that feature logos of supporting organizations or businesses. Please select the appropriate option below that fits the orientation and type of publication in which the logos will appear.
How to Credit the Nebraska Arts Council and the Nebraska Cultural Endowment:

Guidelines for Using NAC/NCE Logos
Download the horizontal combined NAC/NCE logo (150 ppi, .tif ZIP) or (72 ppi, .jpg)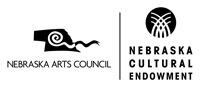 Download the vertical combined NAC/NCE logo (150 ppi, .tif ZIP) (72 ppi, .jpg)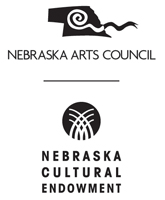 More Information:

If you have questions on how to appropriately accommodate us and your graphic designer, please contact your NAC program manager.
Compliance
Grant Award Packet:
We email our Grant Award Packet to organizations when they receive an NAC grant. Download the packet here: Grant Award Packet
Final Reports:
Final Reports are due no later than 30 days after your project ends. If your organization does not submit a final report within 30 days, NAC may delay payments on current grants, and your eligibility for future grants may be jeopardized.
If you receive NAC funding, be prepared to substantiate your Final Report with appropriate documentation, such as cancelled checks, payroll records, sub-grant award documents, and contractual agreements.
Artwork by North Platte artist Patsy Smith