Request for Qualifications, 1% for Art project
RFQ Submission Deadline: October 6, 2022
Total Budget: $134,485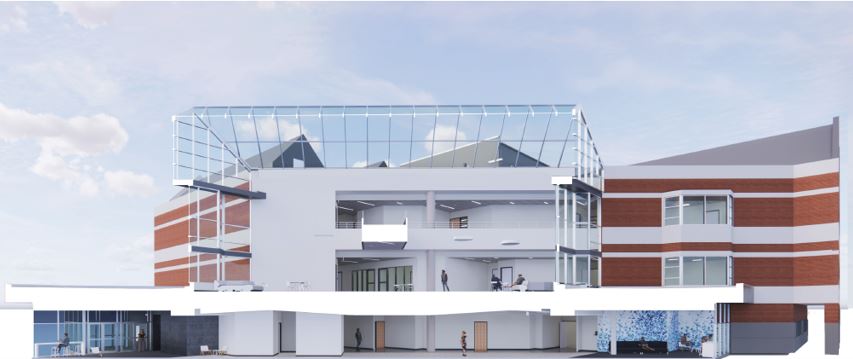 Project Description
The University of Nebraska Omaha (UNO) campus is located in the heart of Omaha, which is a major metropolitan city within the Midwest. The Durham Science Center (DSC) is the academic home for the physical and mathematical sciences departments in the College of Arts and Sciences, including Chemistry, Geography and Geology, Mathematical Sciences, and Physics. Over 80 faculty and staff support more than 4,500 students enrolled in 150 science courses each semester. Approximately 75% of all UNO students take at least one Math course in the building. DSC is also home to the Mallory Kountze Planetarium, Math Science Learning Center, as well as the Aim for the Stars summer camps. It is an active building full of lab courses, many student research opportunities.
Artwork Overview
Faculty from the different disciplines within the Durham Science Center primarily compose the Selection Committee. Their overarching goal is to create an inviting space with a sense of the key disciplines studied within the building. The Committee discussed work that portrays what it is like to be in a research lab, studying in depth different elements of the world, and then taking that knowledge and discoveries into the real world beyond the lab. They would like to see artwork with an interactive quality. That can include: students taking photos,  physically or mentally engaging, or transforming the space in a way that interacting with the art is inherent.
Sites Overview
There are a few different options that artists can consider when applying for this project, please write in the artist's statement which site is preferred. Only one artist will be selected for the full budget listed. Artists can choose the two entrance study areas, the South Entrance building façade, and/or a sculptural installation on the second floor mezzanine. Artists can propose artwork for all three options or one. If multiple sites are selected, there should be a common thread that carries through all the sites. Artists must consider longevity of materials and maintenance methodology, especially for an exterior piece or for any work that is physically interactive.
Review this document for more information about the sites and how to apply: RFQ for UNO Durham Science Center