Request for Qualifications
University of Nebraska Kearney | Celebrating Diversity & Inclusion Plaza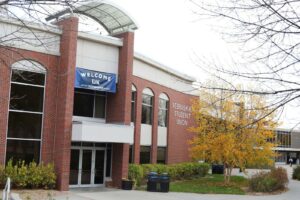 RFQ Submission Deadline: March 7, 2022
Total Budget: $100,000
Project Description
The University of Nebraska at Kearney (UNK) is a public, residential university committed to be one of the nation's premier undergraduate institutions with excellent graduate education, scholarship, and public service. UNK will achieve national distinction for a high quality, multidimensional learning environment, engagement with community and public interests, and preparation of students to lead responsible and productive lives in an increasingly diverse, interconnected, and multicultural society.
One of UNK's core values is that people matter: UNK promotes an inclusive environment that affords equitable access and opportunity to every individual. The framework for UNK's vision is centered on being an environment that is inclusive and explicitly values diversity of individuals, cultures, thought and expression, that centers on student success through personalized teaching and mentorship relationships, and extends broad access to quality education. For more on UNK's Mission, Vision and Values, visit: https://www.unk.edu/about/plan/mission,-vision,-and-values.php
The UNK strategic plan stresses commitment to diversity and inclusion in the recruitment, nurturing and retaining of diverse students and faculty, the promotion of student-centered learning environments, building bridges to the community and state through athletic, cultural, and educational events. For more UNK goals and priorities, visit: https://www.unk.edu/about/plan/strategic-goals,-strategies-and-implementation-priorities.php
Site and Artwork Overview
The Committee is approaching the theme "Celebrating Diversity & Inclusion" within the context of Diversity, Equity, and Inclusion, where Diversity means a mix of different identities and cultures, Equity to acknowledge that we do not always start on a level playing field, and Inclusion to acknowledge individuals voices and power. "Celebrating Diversity & Inclusion" is a priority on the UNK Campus, and the Committee hopes that the artwork and surrounding space should feel welcoming and inclusive for different identities and cultures to enjoy and experience the artwork in their own way. The goal is to offer a vision of how DEI can evolve and provide a better, more equitable and inclusive future. Along with that, people with different abilities should be able to experience the artwork and should follow ADA regulations.
The artwork site is outside the Student Union, which is a major hub for student activity, meals, study groups, club meetings, conferences, etc. The outdoor sculpture and surrounding garden should be an extension of that hub, and encourage interaction with the artwork and with each-other. The artwork should have the potential of becoming an iconic and memorable emblem for the University, and be a place where students want to go for milestone events and photos.
The Committee hopes to select an artist, artist team who are willing to collaborate with and involve the UNK community during the project development. As a part of the RFQ submission, it is important to the Committee to understand the artist's/team's personal and artistic approach to promote Diversity, Equity, and Inclusion efforts on and with the UNK Campus, and how their approach is relevant to the artist.