Brownville Creative District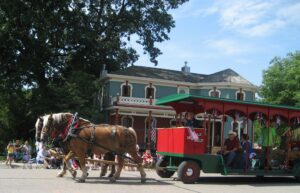 From the Meriwether Lewis Dredge National Monument, Spirit of Brownville, and the River Inn, all on the Missouri River to the Whiskey Run Creek Winery, Brownville is a band of non-profits, shops, and businesses that have come together to provide the visitor with History, Music, Theatre, and the Arts all in one small community.
Once a month, the Concert Series offers a whole weekend of music with artists who come from all over the world.
The Brownville Village Theatre, Nebraska'a oldest repertory theatre, offers five different productions throughout every weekend during the summer.
The Flatwater Folk Art Museum, Red Schoolhouse Gallery and other galleries in town offer a unique view of the art world. Combine this with a unique shopping experience, sleeping overnight on the River at the River Inn Bed and Breakfast, a dinner cruise on the Spirit of Brownville and you can enjoy yourself for a whole weekend or more, all within walking distance of each other.
On top of all of the Arts and Humanities that Brownville has to offer, you can also enjoy the natural beauty of the bluffs and river along the Steamboat Trace, the Whiskey Run Creek Trail, the Robert Furnas Arboretum, or Rohman Garden.