Benson Creative District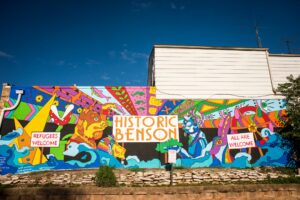 Benson is a creative hub, boasting slogans such as "Keep Benson Bent" and "Keep Benson Good Weird," that comes alive as a night-life destination due to its concentration of restaurants, bars, a theatre, galleries, and music venues. In addition to these creative happenings, it is the local schools, churches, library, community center, and local residents that keep the neighborhood welcoming and alive.
Benson is also home to a variety of cultural assets; BFF Omaha's First Friday art walks; Maple St. Construct's national artist residency program that bridges the discourse between artists from Los Angeles and the Midwest; education opportunities including (402) Arts Collective's multi-generational arts education programming and an internship program at the Benson Theater; Radial Arts Center's 4,3000 square foot gallery and multi-use space supporting artisan markets, classes, community meetings, workshops, after-school programs, and more.
Over the last decade, an ever-increasing presence of public art and artist-designed posters and promotions can now be seen along Maple Street, alleyways, and on Benson buildings. During the day, creative retail and service shops, including three tattoo parlors, multiple salons, book stores, vintage shops, and other businesses slinging curios and antiques make the Benson Creative District unique and original.