Call for Artworks
Douglas County Justice Center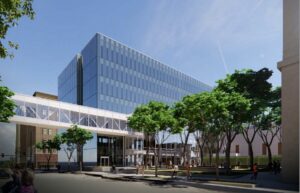 RFQ Submission Deadline: April 26, 2022
  Total Comprehensive Budget: $200,000
Located in downtown Omaha, the new Douglas County Justice Center will streamline judicial processes, and coordinate services in order to improve justice outcomes and enhance safety for all members of our community. The project's goal is to establish our community as a leader in justice practices that protect youth and families, empower public servants and nonprofit partners, strengthen security, and reduce expensive inefficiencies. This will reduce the amount of time youth are in the system and make their stay more positive, safe and impactful.
The Art Committee believes that artwork can be a source of empowerment, courage, and hope for the youth using the space. To achieve that, we hope to select artwork that is relatable and captures their attention, whether through the artwork's energy, subject matter, or style. Other key words the Committee hopes to evoke with the artwork: confidence, courage, community, and joy.
There are a total of 12 interior sites: eleven (11) locations for wall-hanging artworks and one (1) location for a sculptural artwork. All the artworks will be in public spaces, including waiting rooms, lobbies, and hallways. Artists should submit artwork that is already completed.
Omaha Metro Artists (Douglas County, Sarpy, Pottowattamie Counties) will be given preference, and Artists from other counties in Nebraska are also eligible.