Sarah Rowe, a teaching artist on the Nebraska Arts Council roster, has a busy season ahead of her.
Rowe is a visual artist based in Omaha, Nebraska. Her work opens cross cultural dialogues by utilizing methods of painting, printmaking, textiles, performance, and Native American ceremony in unconventional ways.
According to the Reader, Rowe is being featured in three exhibitions over the next couple of months. Her first feature will be at The Kaneko 2022 Soirée Ceremony. The show is titled "Post," which is also Rowe's first show at the Kaneko.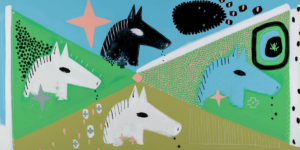 A quote from Rowe on the Kaneko website, describing the show: "My work draws from the energy of Heyoka, the sacred clown of the Lakota. I believe humor and play help form connections across different backgrounds and perspectives, creating a more inviting world."
The works being featured in the show were also on display at the Great Plains Art Museum in Lincoln. Her work will also be featured alongside fellow Omaha artist, Charles Kay Jr. The opening for this exhibit is on October 7th and will be featured till February 5th.
Rowe's next feature will be at the UNO Gallery starting in October as well. The exhibit is titled "Resilience," and features Rowe, alongside artists Anita Fields, Lydia Cheshewalla, and Reyna Hernandez. The exhibit explores the themes of nature, transformation, and resilience in Indigenous cultures.  Rowe is of Lakota and Ponca descent.
The third exhibit, which will debut later in the year, is taking place at Generator Space.
Other projects going on this Fall for Rowe include working on the Blue Barn Theater production of The Legend of Sleepy Hollow, a solo show at the Willa Cather Center, and a two person show titled "Lyric" at the Generator Space with Netherlands/St. Louis artist Karen Bauer.
If you would like to know more about Sarah Rowe or want to hire her as a teaching artist, click here.
If you want to read more about the other exhibits opening this season, click here for the Reader article.